Indian Post Office GDS Result 2022:- Indian Post Office has released the result for document verification (DV) for the recruitment of Gramin Dak Sevak (GDS) in various circles across the country. India Post GDS Online has released a total of 38926 vacancies for 35 circles across India. Indian Post Office Online applications were made from 02/05/2022 to 05/06/2021. Male Female both had applied the form. And all over Indian students could apply the form. Selection will be on the basis of 10th marks and Document Verification.Complete details of the Vacancy,Result,Admit card, exam date and other important information is given below.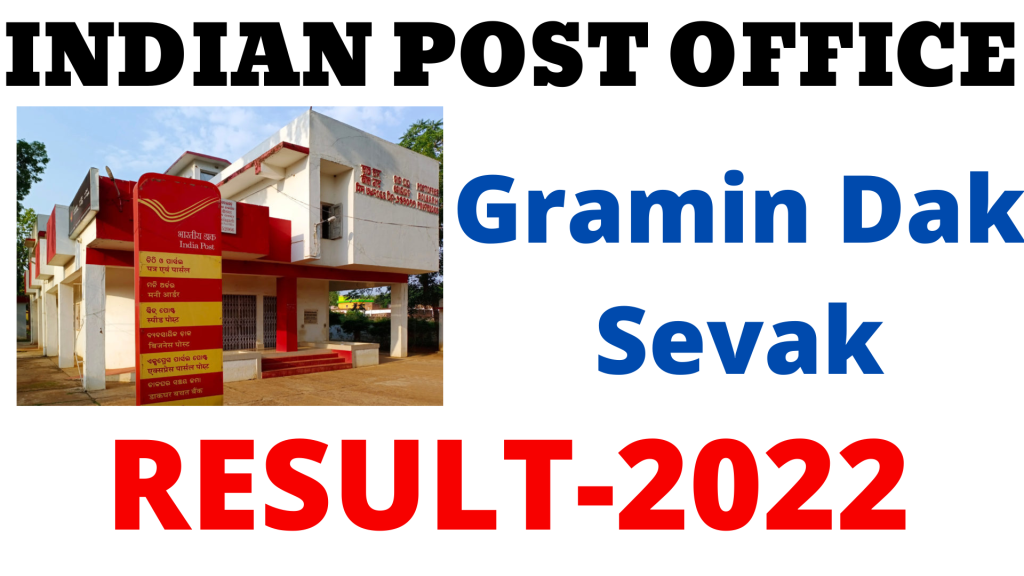 INDIAN POST OFFICE GDS RESULT 2022
Indian Post Office GDS Result 2022 Detail
Department:-
Indian Postal Department
Post Name:-
Gramin Dak Sevak (GDS), BPM, ABPM
Total Vacancy:-
38926
Form Apply Date:-
02/05/2022
Form Last Date:-
05/06/2022
Salary:-
Rs. 10000- 12000/- plus allowances
Category:-
Result
Job Location:-
All Over India
Date Of Written Exam:-
Merit Base
Exam Centre:-
–
Result Date:-
15 June 2022(Assam and UK)
Selection Process:-
10th Merit Base
Education Qualification
Essential:-
1.Matriculation(10th) or equivalent from a recognized University or Board
2.Knowledge Of Cycling or Scoter or Motor Cycle
3.Knowledge Of Local Language.
Important Dates

Form Apply Date:-

Form Last Date:-

02/05/2022

05/06/2022
Salary

Sl.

Category

Minimum TRCA for 4 Hours/Level 1 in TRCA Slab

i.

BPM

Rs.12,000/-

ii.

ABPM/DakSevak

Rs.10,000/-
Examination Fees
UR/OBC :- 100/-
SC/ST/Female/PWD:- Free
Age Count as on(05/06/2022)
UR
18-40
OBC
18-43
SC/ST
18-45
Indian Post Office Total Vacancy Details
Post Name
No. Of Post
Gramin Dak Sevak
38,926
| | | | | | | | | |
| --- | --- | --- | --- | --- | --- | --- | --- | --- |
| Sno | Circle | Language_Name | UR | OBC | EWS | SC | ST | Total |
| 1 | Andhra Pradesh | Telugu | 755 | 333 | 224 | 220 | 123 | 1716 |
| 2 | Assam | Assamese/Asomiya | 413 | 257 | 95 | 83 | 81 | 951 |
| 3 | Assam | Bengali/Bangla | 63 | 35 | 12 | 8 | 22 | 143 |
| 4 | Assam | Bodo | 8 | 5 | 0 | 1 | 32 | 47 |
| 5 | Assam | Hindi/English | 1 | 0 | 0 | 0 | 1 | 2 |
| 6 | Bihar | Hindi | 464 | 247 | 83 | 144 | 31 | 990 |
| 7 | Chattisgarh | Hindi | 477 | 45 | 133 | 176 | 373 | 1253 |
| 8 | Delhi | Hindi | 25 | 10 | 4 | 10 | 8 | 60 |
| 9 | Gujarat | Gujarati | 802 | 466 | 234 | 78 | 271 | 1901 |
| 10 | Haryana | Hindi | 404 | 244 | 80 | 164 | 0 | 921 |
| 11 | Himachal Pradesh | Hindi | 424 | 191 | 99 | 229 | 47 | 1007 |
| 12 | Jammukashmir | Hindi/Urdu | 115 | 65 | 26 | 22 | 27 | 265 |
| 13 | Jharkhand | Hindi | 273 | 68 | 41 | 68 | 149 | 610 |
| 14 | Karnataka | Kannada | 1017 | 594 | 269 | 323 | 153 | 2410 |
| 15 | Kerala | Malayalam | 1220 | 462 | 246 | 179 | 32 | 2203 |
| 16 | Madhya Pradesh | Hindi | 1589 | 457 | 442 | 638 | 803 | 4074 |
| 17 | Maharashtra | Konkani/Marathi | 24 | 8 | 4 | 0 | 6 | 42 |
| 18 | Maharashtra | Marathi | 1300 | 746 | 298 | 287 | 264 | 2984 |
| 19 | North Eastern | Bengali | 86 | 8 | 4 | 32 | 36 | 166 |
| 20 | North Eastern | Hindi/English | 117 | 6 | 15 | 0 | 87 | 236 |
| 21 | North Eastern | Manipuri/English | 13 | 8 | 0 | 1 | 34 | 56 |
| 22 | North Eastern | Mizo | 34 | 5 | 9 | 0 | 41 | 93 |
| 23 | Odisha | Oriya | 1278 | 314 | 299 | 459 | 638 | 3066 |
| 24 | Punjab | Hindi/English | 10 | 6 | 1 | 3 | 0 | 21 |
| 25 | Punjab | Punjabi | 414 | 188 | 63 | 264 | 0 | 948 |
| 26 | Rajasthan | Hindi | 1127 | 231 | 289 | 371 | 305 | 2390 |
| 27 | Tamilnadu | Tamil | 2014 | 1018 | 398 | 719 | 30 | 4310 |
| 28 | Telangana | Telugu | 509 | 266 | 123 | 200 | 88 | 1226 |
| 29 | Uttar Pradesh | Hindi | 1189 | 632 | 191 | 421 | 52 | 2519 |
| 30 | Uttarakhand | Hindi | 195 | 42 | 39 | 55 | 12 | 353 |
| 31 | West Bengal | Bengali | 781 | 386 | 135 | 411 | 88 | 1850 |
| 32 | West Bengal | Hindi/English | 28 | 12 | 4 | 0 | 3 | 48 |
| 33 | West Bengal | Nepali | 10 | 8 | 1 | 3 | 3 | 26 |
| 34 | West Bengal | Nepali/Bengali | 4 | 3 | 3 | 3 | 0 | 13 |
| 35 | West Bengal | Nepali/English | 15 | 3 | 3 | 1 | 3 | 26 |
| | Total | | 17198 | 7369 | 3867 | 5573 | 3843 | 38926 |
Documents Required For Document Verification
All Original and Photo Copy
Valid ID Proof(Aadhar Card,Voter ID,Pan Card,Driving License,Passport,etc.)
Online Application Form
Education Qualification(10th)Certificate/Marksheet
Cast Certificate(SC/ST/OBC)
EWS CertificateDomicile/Permanent Residence Certificate
Physical Handicap(PH) Certificate(If applicable)
Two latest color passport size photographs