Indian Navy Tradesman Vacancy 2023:- Indian Navy Release the 248 vacancy for Tradesman Skilled Post.The forms will be filled Online.Male & Female both can apply. You can apply from All Over India.Online apply Last Date is 06/03/2023,Selection will be on the basis of written examination. complete details of the Vacancy, syllabus,Exam Date and Admit Card are given below.you can also download notification.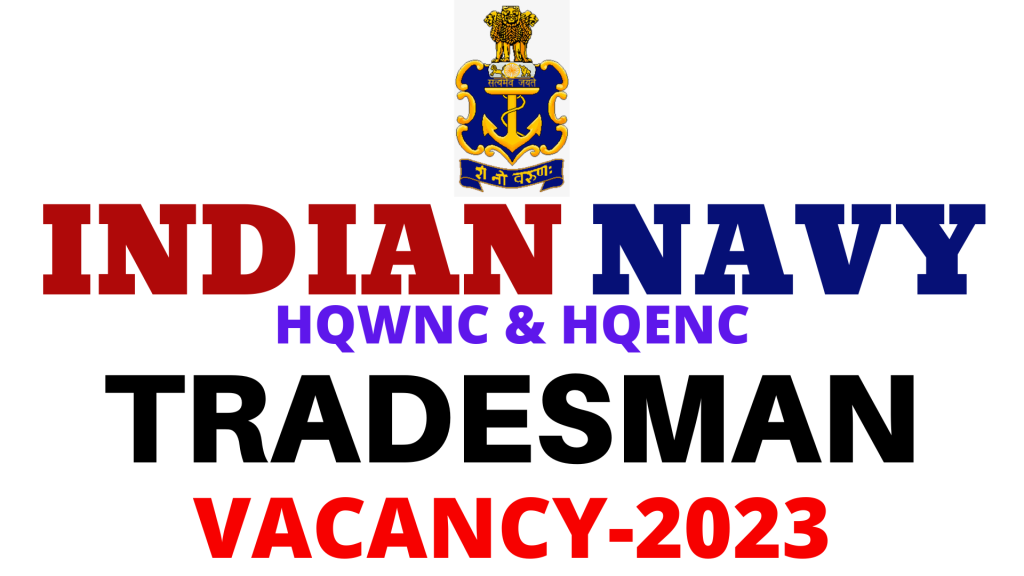 INDIAN NAVY TRADESMAN VACANCY 2023
Indian Navy Tradesman Vacancy 2023
Department
Indian Navy
Post Name
Tradesman Skilled
Total Vacancy
248
Form Apply Date
07/02/2023
Form Last Date
06/03/2023
Salery
Level-3,PayScale Rs.21,700-69,100/-
Important Dates

Form Apply Date:-

Form Last Date:-

07/02/2023

06/03/2023
Education Qualification
For Skilled (Ammunition Mechanic)
(i) Matriculation or equivalent from a recognized Board.
(ii) Two years' Certificate Course from a recognized Industrial Training Institute under the Craftsmanship Training Scheme in any of the following trades :-
· Electrician or
· Electronic Mechanic or
· Electroplater or
· Fitter or
· Instrument Mechanic or
· Machinist or
· Mechanic, Communication Equipment Maintena
For Remaning Post:-
(i) Matriculation or equivalent from a recognised Institute or Board with knowledge of English.
(ii) Should have completed Apprenticeship training in the relevant trade for the post.
OR
Mechanic or equivalent with two years regular service in the appropriate Technical Branch of the Army, Navy and Air Force.
Indian army Tradesman Vacancy 2023

Sl No

Commad

Depot

Post

Trade

Distribution of vacancies

(Subject to variation)

UR

SC

ST

OBC

EWS

TOTAL

Horizontal Reservatin

ESM

Pw BDs

(1)

HQWNC

NAD,

Mumbai

Designated Trades

(a)

Machinist

Machinist / Turner

05

01

–

02

–

08

–

01

(b)

Driver Crane Mobile

Crane Operator

with heavy duty vehicle license

02

01

–

01

–

04

–

–

(c)

Shipwright

(Joiner)

Shipwright Wood/

Carpenter

02

–

–

–

–

02

–

–

(d)

Painter

Painter (General)

02

–

–

–

–

02

–

–

Optional Trades

(a)

Fitter

Armament

Fitter

17

06

02

10

03

38

04

01

(b)

Fitter GeneralMecha

(GW)

Fitter

16

05

03

09

03

36

04

01

(c)

Fitter

Electronics

05

01

–

05

01

12

02

01

Electronic

(Mechanic),

(GW)

Mechanic (Radio

& TV)

(d)

Fitter

Electrician,

05

01

–

05

01

12

02

01

Electrical

Instrument

(GW)

Mechanic

(e)

Electric Fitter

Electrician

01

01

–

01

–

03

–

–

Total vacancies

117

12

05

(2)

HQWNC

NAD,

Optional Trades

Karwar

(a)

Electrical

Electrician

06

01

–

02

–

09

01

–

Fitter

(b)

Electronic

Electronics

10

02

01

05

01

19

02

02

Fitter

(Mechanic),

Mechanic (Radio

& TV)

(c)

General

Fitter

10

02

01

04

01

18

01

01

Mechanic

Fitter

(d)

Skilled

(i) Electrician or

06

01

–

02

–

09

01

–

(Ammunition

(ii) Electronic

Mechanic)

Mechanic or

(ii) Electroplater

or

(iv) Fitter or

(v) Instrument

Mechanic; or

(vi) Machinist or

(vii) Mechanic,

Communication

Equipment

Maintenance.

Total vacancies

55

05

03

(3)

HQWNC

NAD,

Optional Trades

Goa

(a)

Electronic

Electronics

–

–

–

01

–

01

Fitter

(Mechanic),

Mechanic (Radio

–

–

& TV)

(b)

Electric Fitter

Electrician

01

–

–

–

–

01

Total vacancies

02

–

–

(4)

HQENC

NAD,

Designated Trade

Visakha

patnam

(a)

Driver Crane

Crane Operator

01

–

–

–

–

01

01

with heavy duty

vehicle license

–

Optional Trades

(a)

Fitter

Fitter

07

02

01

03

01

14

01

–

Armament

(b)

Torpedo

Electronic

15

08

04

05

03

35

03

–

Fitter

Mechanic, Radio

Mechanic,

Electrician,

Instrument

Mechanic or

equivalent

(c)

Skilled

(i) Electrician or

5

–

–

1

1

07

–

–

(Ammunition

(ii) Electronic

Mechanic)

Mechanic or

(ii) Electroplater

or

(iv) Fitter or

(v) Instrument

Mechanic or

(vi) Machinist or

(vii) Mechanic,

Communication

Equipment

Maintenance

Total vacancies

57

04

01

(5)

HQENC

NAD,

Optional Trades

Rambili

(a)

Fitter

Fitter

03

–

–

–

–

03

–

–

Armament

(b)

Torpedo

Electronic

06

01

–

02

–

09

–

–

Fitter

Mechanic, Radio

Mechanic,

Electrician,

Instrument

Mechanic or

equivalent

(c)

Skilled

(i) Electrician or

03

–

–

–

–

03

–

–

(Ammunition

(ii) Electronic

Mechanic)

Mechanic or

(ii) Electroplater

or (iv) Fitter or

(v) Instrument

Mechanic or

(vi) Machinist or

(vii) Mechanic,

Communication

Equipment

Maintenance

Total vacancies

15

–

–

(6)

HQENC

NAD,

Designated Trade

Sunabe

da

(a)

Driver Crane

Crane Operator

–

01

–

–

–

01

–

–

with heavy duty

vehicle license

Optional Trade

`

(a)

Skilled

(i) Electrician or

01

–

–

–

–

01

–

–

(Ammunition

(ii) Electronic

Mechanic)

Mechanic or

(ii) Electroplater

or

(iv) Fitter or

(v) Instrument

Mechanic or

(vi) Machinist or

(vii) Mechanic,

Communication

Equipment

Maintenance

Total vacancies

02

–

–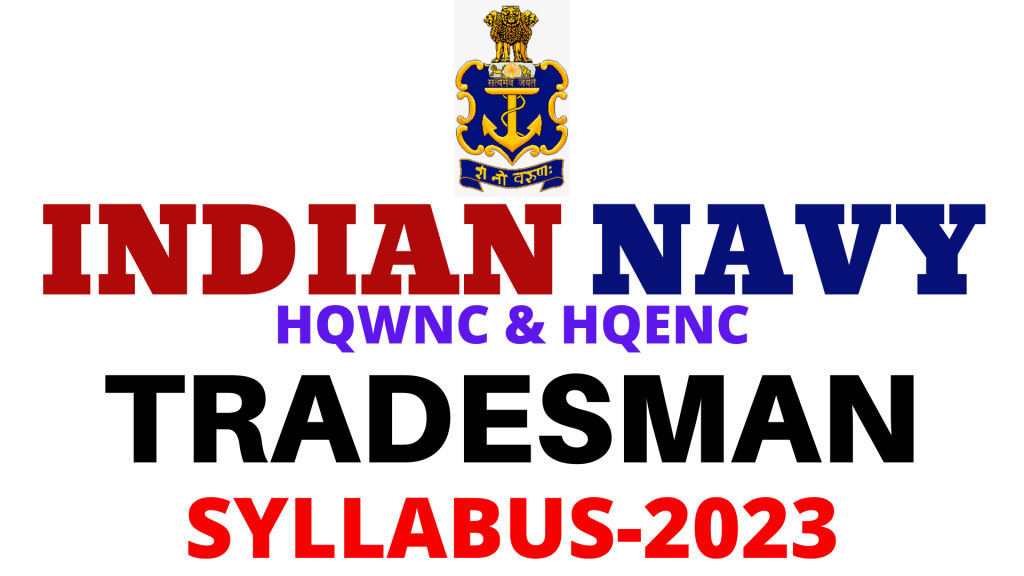 INDIAN NAVY TRADESMAN SYLLABUS 2023
Indian Navy Tradesman Selection Process
1. Screening of Applications
2. Shortlisting of Applications
3. Written Examination
4. Final Selection
Written Exam Syllabus

Part

Subject

Maximum Marks

(i)

General Intelligence and Reasoning

10

(ii)

Numerical Aptitude

10

(iii)

General English

10

(iv)

General Awareness

20

(v)

Awareness in relevant trade/field

50
Candidate Can Read The Full Notification Before Apply Online

Important Link's
Vacancy Link
Click Here
Online Apply Link
Click Here
Notification Link
Click Here
Form Download Link
Click Here
Official Website Link
Click Here
Join Telegram Link
Click Here