Delhi Police Driver Vacancy 2022:- SSC has released 1411 Vacancy to the Post of Constable Driver In Delhi Police.The forms will be filled online.Male Candidate can apply.You can apply from All Over India. The last date to apply form is 29/07/2022, Selection will be on the basis of written exam,PE&MT,Driving Test and Medical Test.complete details of the Vacancy, syllabus, Exam Date and Admit Card are given below.you can also download notification.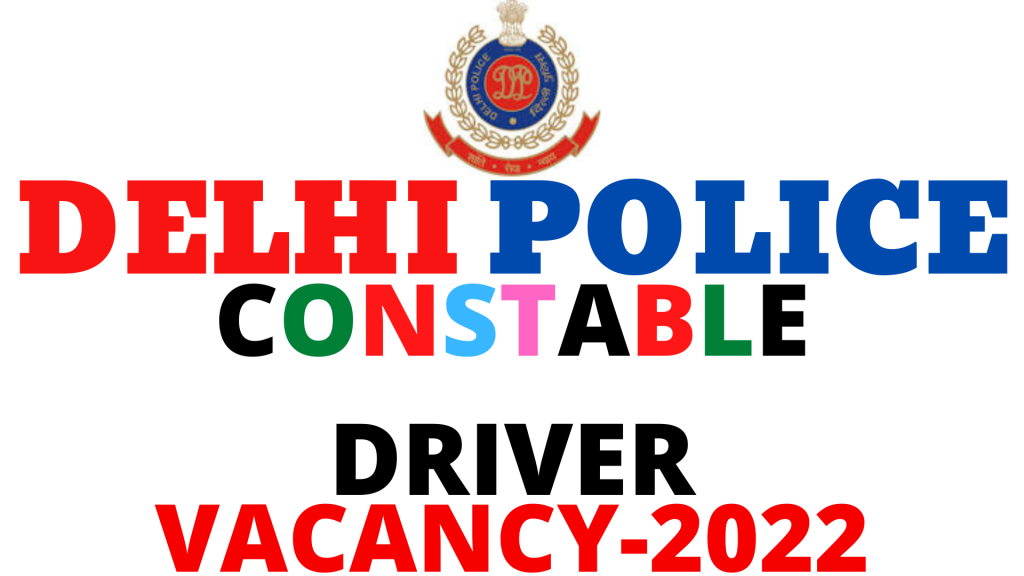 DELHI POLICE DRIVER VACANCY 2022
Delhi Police Driver Vacancy 2022
Department
Delhi Police
Post Name
Constable Driver
Total Vacancy
1411
Form Apply Date
08/07/2022
Form Last Date
29/07/2022
Salary
Pay Scale of PB-1 R 5200-20200/- + Grade Pay R 2000/-
Important Dates

Form Apply Date:-

Form Last Date:-

08/07/2022

29/07/2022
Education Qualification
(a) 10 +2 (Senior Secondary) pass or equivalent from a recognized Board at.the time of filling up of application form.
(b) Should be able to drive heavy vehicles with confidence.
(c) Valid Driving Licence for Heavy Motor Vehicles.
(d) Possess knowledge of maintenance of vehicles.
Age (as on 01/July/2022)
UR
21-30
OBC
21-33
SC/ST
21-35
Examination Fees
UR/OBC/EWS 100/-
SC/ST/ESM FREE/-
Delhi Police Driver Vacancy Details
Post
No. Of Post
Constable Driver
1411
Centre Of Examination
All Over India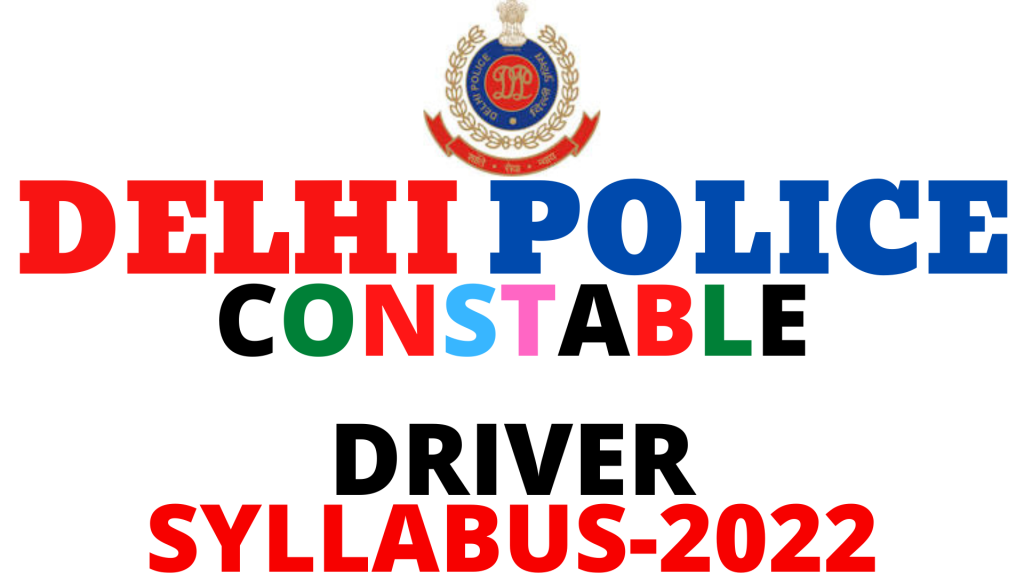 DELHI POLICE DRIVER SYLLABUS 2022
Delhi Police Driver Selection Process
1.Written Exam
2.Physical(PE&MT)
3.Driving Test
4.Medical
PART-1
Written Exam Syllabus
S.No
Subject
Questions
Marks
Time
1.
General Awareness/General Knowledge
20
20
90minutes
2.
General Intelligence
20
20
3.
Mathematics
10
10
4.
Road Sense, Vehicle Maintenance, Traffic Rules/Signals vehicle & environmental pollution i.e. petrol and diesel vehicle, CNG operated vehicle,' Noise pollution etc
50
50
Total
100
100
1. Objective type multiple choice Questions.
2. Online Exam.
3. 10th Level Exam
4. No Negative marking for wrong answersThe questions will be set both in Hindi and English. Candidates will have the option to answer either in Hindi or English.
General Awareness/General Knowledge
Question in this component will, be aimed at testing the candidate's general awareness around him. Questions will also. be designed to test his knowledge of current events and of such matters of every clay observations and experience in their scientific aspect as may be expected of any educated person. The test will also include :questions relating to India and its neighboring countries especially pertaining to Sports, History, Culture, Geography, Indian Economy, General Polity, Indian Constitution, Scientific Research etc. These Questions will be such that they do not require a special study of any discipline.
Numerical Ability(Mathematics)
Number Systems? Computation of Whole Numbers, Decimals and Fractions and relationship between Numbers, Fundamental Arithmetical operations, Percentages, Ratio and Proportion, Averages, Interest, Profit and Loss, Discount, Mensuration, Time and Distance, Ratio and Time, Time and Work. etc
General Intelligence(Reasoning)
Analytical aptitude and ability to observe and distinguish patterns will be tested through questions principally of nonverbal type. This component may include questions on analogies, similarities and differences, spatial visualization, spatial orientation, visual memory, discrimination, observations, relationship concepts, arithmetical reasons and figural classification, arithmetic number series, non-verbal series, .coding and decoding etc.
Road,Driving,Maintenance etc.
Questions related to Road Sense , Vehicle Maintenance, Traffic RulesjSignalsjSignages, vehicle & environmental pollution i.e, petrol and diesel vehicle, CNG operated vehicle; Noise pollution etc.
PART-2
PMT(Physical Measurement Test)
Male
Height
Chest
UR/OBC/SC
170 c.m
(81-85)
ST
165 c.m
(76-81)

Garhwalis, Kumaonis, Gorkhas, Dogras, Marathas and candidates belonging to the States of Sikkim, Nagaland, Arunachal Pradesh, Manipur, Tripura, Mizoram, Meghalaya, Assam, Himachal Pradesh, Kashmir, Leh & Ladakh regions.

165 c.m
(76-81)
Sons of either serving, retired or deceased Delhi Police Personnel/ Multi-Tasking Staff of Delhi Police.
165 c.m
(76-81)
For appointment on compassionate grounds.
PET(Physical Endurance Test)
Age
Race-1600 meter
Long Jump
High Jump
UP to 30 Years
7 Minutes
12.5 Feet
3.5 Feet
30-40
8 Minutes
11.5 Feet
3.25 Feet
Above 40
9 Minutes
10.5 Feet
3 Feet
PART-3
Trade Test(Driving)

S.No.

Test

Total Marks

Qualifying Marks

i)

Driving (Light Motor Vehicle):-

(a) Driving (Forward) – (20 marks)

(b) Driving (Reverse) – (20 Marks)

(c) Parking – (10 Marks)

50marks

25marks

ii)

Driving (Heavy Motor Vehicle):-

(a) Driving (Forward) – (20 marks) ..

(b)Driving (Reverse) – (20 Marks)

(c) Parking – (10 Marks)

50marks

25marks

iii)

Knowledge of traffic signs/road sense/ basic Driving rules like lane driving, overtaking procedure, road-map reading, assessment of shortest possible route etc.- (25 marks)

25marks

12.5marks

iv)

Knowledge of maintenance of vehicle i.e. tyre pressure, battery water level, QUflntity & grade of oils to be used, Coolant, tension of belts/hose pipes etc.-(25 marks)

25marks

12.5marks
PART-4
Medical Standard
(a) The candidate should be of sound health, free from disease defect/ deformity.
(b) Better eye 6/6 without glasses, Worse eye 6/12 without glasses. Free.from colour blindness. No relaxation permissible.